Preballet - Ages 5 to 7
(Leap 'N Learn 5 and 6)
We're a Leap 'N Learn certified studio, which means all teachers are trained in this award-winning and well-thought out curriculum for early dance training. Wanting to provide the best, most age-appropriate curriculum we found a perfect fit in Leap 'N Learn, a program that was developed by a long-time dance educator in collaboration with a child psychologist.
Preballet classes are 60 minutes long.
There are two levels: Preballet I (Leap 'N Learn 5) and Preballet II (Leap 'N Learn 6).
Tuition is paid in 10 monthly installments of $65. There is no registration fee. Payment of your first installment at registration reserves your child's spot in class. The remaining 9 installments will be charged to the payment method we have on file on the 15th of Sept. through May.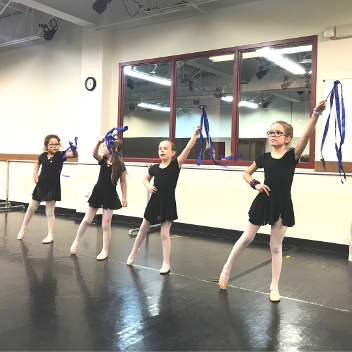 Is it safe to participate in dance classes during Covid-19?
This is a question that many parents are asking themselves these days. We feel that our small in-studio classes are a very safe activity for your child and provide a much needed social and physical outlet.
Class sizes are limited to 8 children during this time.
Students will be dancing in a distanced way in taped off boxes for most of the class. This has worked very well during our summer session. Our teachers have even come up with wonderfully creative ideas to incorporate the boxes into their teaching.
Teachers and all other staff as well as students over age 5 wear masks. For students younger than 5, wearing masks is optional.
For more details, please see Ballet U COVID-19 Protocols.
What happens if there is another lock-down?
We are prepared to pivot back to virtual teaching if it becomes necessary to do so. We understand that Zoom classes are not ideal for some families and will be offering refunds or credits for future classes if we are forced to close the studio temporarily.
We prefer to dance from home. Do you have a virtual class now?
Yes, we offer dedicated Zoom classes for most of our levels. These classes are designed for your child to participate from home and each dancer will be actively included by the teacher making this an engaging yet safely distanced activity for your child. All you need is a tablet or computer and some space to dance. Many families connect their device to their TV. We have found that many families also like the convenience of not having to travel to the studio.
The virtual Leap 'N Learn 5/6 class will be offered on Mondays at 1:00-2:00 pm. Dancers who sign up for this class will receive their own set of dance props to use during the class.
Tuition for the virtual class is $55/month.
My daughter was in a session last year and LOVED it! At 6, she tends to be difficult to get out the door for activities but for Ballet Class, never a problem. Great teachers, great curriculum and a we loved the simplicity of the Preballet Showcase at the end of the year. 5 stars!!! Ballet U Parent
"What should my child wear to Preballet class?"
Girls: Light blue skirted leotard (Preballet I) or black skirted leotard (Preballet II), pink tights and pink leather ballet slippers (available at Ballet U); Boys: black leggings or shorts, white t-shirt, black leather ballet slippers.
If you already own dance wear in a different color it's OK to wear that until outgrown. Please do not purchase ballet shoes at any of the big box stores. They are not leather and do not fit well. Contact us to get fitted for dancewear at Ballet U.