Tiny Dancers for Ages 2.5-3
Do you have a 2.5 year old who loves to twirl, hop and clap?
We had so many parent requests for a class for their not quite three year olds that we decided to create a special class just for them.
What to expect:
12 week session with one 30 minute class per week during Sept-May

Two 4-week sessions with one 30 minute class per week during July and August

No more than 6 dancers per class




Nurturing atmosphere and consistent class structure




Changing themes to keep kids engaged




Use of songs, props and story ideas that appeal to two year olds




Lots of fun, growth, smiles and giggles

Stickers and hugs at the end of each class

Parents can watch their child through our observation windows while socializing with other parents

Mini-performance for parents during our last class of the session
Morning, afternoon and Saturday class times available.
Fall Session: 9/3-11/25
Winter Session: 12/2-3/8
Spring Session: 3/9-6/8
Registration will open about 4 weeks before each session.
Tuition is $147 for 12 weeks of classes.
Complete uniform (skirted leotard, tights, shoes) can be added for $40. Pieces are also available individually. Purchase online during registration or directly at our studio.
Unlimited make-up classes within the same session.
Can I bring my child to a trial class?
Our classes often fill up and bringing in a trial student is not fair to the students who are already enrolled and have gotten used to each others and the class structure. Please register and then, if it turns out that the class is not a good fit for your child, take advantage of our Risk-Free New Student Guarantee (see below).
Risk-Free New Student Guarantee: If you decide the class isn't a good fit, you can request a refund for the remainder of the session up through the third week of the session (12 week sessions only, no refunds for 4 week summer classes).
"What should my child wear?"
Girls: Skirted leotard (pink or lilac), pink tights and pink leather ballet slippers;
Boys: Black leggings or shorts, white t-shirt, black leather ballet slippers. For boys, black slippers are included in the class fee.
Please do not purchase ballet shoes at any of the big box stores. They are not leather and oftendo not fit well. Contact us to get fitted for dancewear at Ballet U.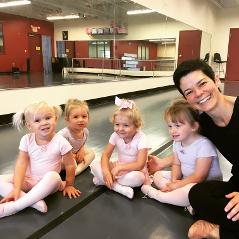 How to enroll:
Click on the Register button to get to our registration page. Choose the correct season, e.g. "Fall 2019 - Ages 2.5, 3, 4"and then your preferred class time from the schedule. If the class title appears in red, it means the class is full.
We accept new students at any time, as long as there are openings, and will prorate tuition for classes missed.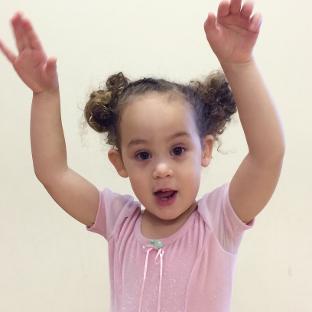 Her tutu is on before breakfast, "Is it dance class day Mommy?"
She races through the door, her pink ballet slippers shuffling as she joins the circle ready to begin. Once the music starts, her face beams with joy, twirling to the beat as she feels her body stretch and strengthen.
You can tell by the way she looks at her teacher that these classes are more than just about learning to dance. Her teacher makes her feel important, encourages her to explore her creativity and week-by-week improves her confidence - not to mention her dancing!
When she gets into the car, she sings along happily to herself before asking you, "Can we go back tomorrow Mommy?"
You see, helping your child fall in love with dance is only part of what we do at Ballet U. It's all about creating childhood memories of dance classes you will both cherish for a lifetime.
"Stephanie is very patient yet firm with children. She really works with their abilities, while gracefully nudging them forward to learn, grow, and improve in ballet. My daughter and I have met great friends in participating in ballet and could not have chosen a better studio and teacher. Love,love,love ballet!!!" JP

"If you are looking for someone with patience and kindness to work with little ones who have short attention spans, this is the place to go. Miss Stephanie does an amazing job." CB
"My 3-year old loves her dance class with Ms. Stephanie. It's her favorite day of the week. She has learned so much and is excited about coming every week. " LD
"S. (3) has been so happy with dance class. She wishes she could go every day. I've never seen her so inspired, attentive and engaged. Thank you and her other instructors, Morgan and Olivia, for helping this experience be positive and life fulfilling for S." BL
Parents often ask...
"Is my child ready for dance class?"
If your child is at least 30 months old and independent enough to be happy without mom or dad in a classroom setting for a limited period of time, he or she is likely ready and would greatly enjoy our Tiny Dancers class. Children do not need to be potty trained for the Tiny Dancers class.
"Can I watch my child's class?"
Yes! You will get to observe your little one from our adjoining observation hallway which is outfitted with one-way mirrors. For the last class of each session parents are invited into the classroom.