Our Children's Program at Ballet U consists of
1, 2, 3... Dance With Me for ages 1.5-3 - a drop-in class with grown-up participation
Tiny Dancers for ages 2.5-3 - first independent dance class for very young dancers
Princess Ballerinas for ages 3-5, a magical creative movement class suitable for girls and boys alike
Preballet for ages 5 - 7, introduction to classical ballet components
Our main goal for our young dancers is to encourage them to develop independence, develop motor skills, learn to follow directions, enhance their enthusiasm for dance, and most importantly to have FUN! Click on the buttons below for more detailed class descriptions.
About your child's teacher: The majority of our children's classes are taught by Ms. Stephanie, who is a patient mother of four, a creative and experienced dance instructor and loves passing on her love of dance to children. Class sizes are kept small (max. 10 students and only 6 students for Tiny Ballerinas) and manageable with the help of our preteen and teen class assistants.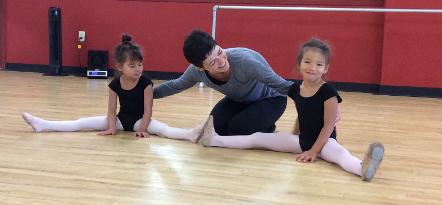 Do you belong to a Mom's Group or Play Group?
We'd be happy to design and host a custom class or class series for your group. Please contact Stephanie for more info.