Yoga with Sophia
Donation based Vinyasa yoga class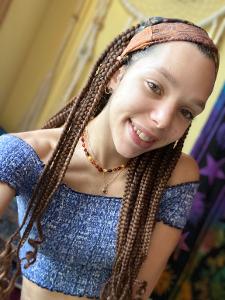 Yoga with Sophia
We are now offering 2 weekly Vinyasa yoga classes taught by Sophia Tollefson.
During the pandemic attendance will be limited to 8 students.
Advance reservation is requested.
There is no fee for these classes but donations/tips are appreciated.
Take a moment to catch your breath
Discover your inner strength
A gentle 60 minute Vinyasa flow class for all ages (16+)and all bodies.
Whether you are completely new to yoga or have previous experience,
this class is suitable for you.
Invite grounding and balance into your mind, body, and life.
Join me in our warm and inviting spacious studio,
and begin cultivating your inner strength.
Tuesday 5:30-6:30 pm
Friday 5:00-6:00 pm

Classes will be held in Ballet U's Studio 3. Bring your own mat or borrow one from us.
© Copyright Ballet U, LLC