Winter 2023
Adult Ballet
for
New Beginners
10 week entry level class for students with no or very little experience.

New classes starting on January 8
Mondays 7:00-8:30 pm
or
Thursdays 9:00-10:30 am

$175 for ten 90 min classes
Ballet is for YOU!
Join our entry level class designed for students with no or very little prior experience.
Geared towards new adult beginners, this class is a slow and thorough introduction to ballet. Carefully guided by your encouraging teacher you will feel mentally and physically challenged during class, as well as invigorated after class.
After completion of this class, students may choose to repeat the introduction class or move to one of our Adult Ballet 1 classes.
Have you dreamed about learning ballet but thought you'd "missed the boat"?
You haven't!
If you have the desire,
this is the perfect class to bring ballet into your life in a safe, steady and supported way.
This class will be held at our spacious studio and is limited to 16 students.
Can't make all classes? No problem.
Missed classes may be made up in other beginning level classes
towards the end of your session.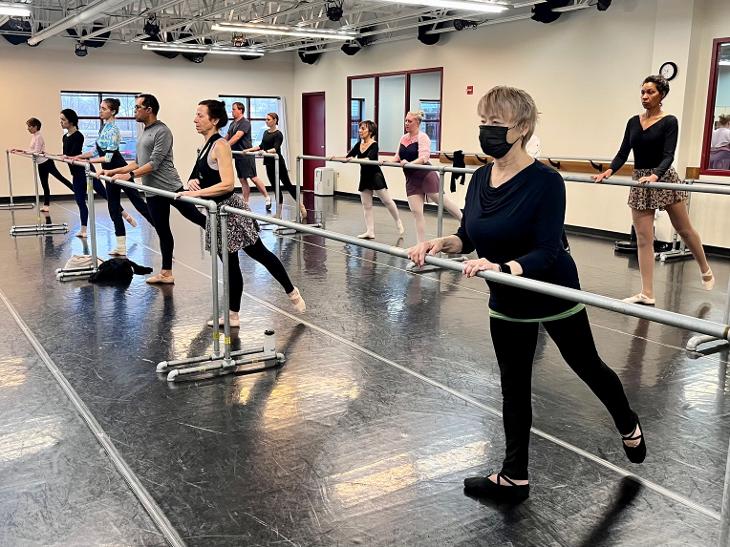 "I wanted to personally share with you how much I enjoyed your class. Your combination of visual and verbal instruction helps learners of all levels to easily grasp and understand the concepts of ballet. Although I was nervous to try this class, the minute you began teaching I felt at ease and quite comfortable challenging my body with this unfamiliar activity.
I really loved learning small routines paired with music and found it both physically and mentally rewarding!" ~Ballet U Adult Student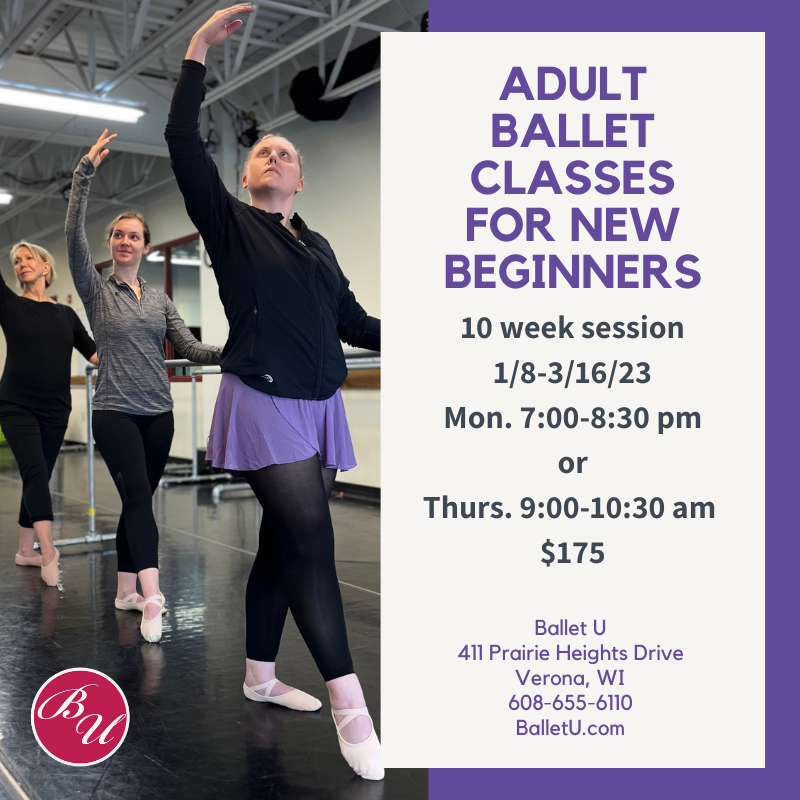 What to wear?

Most of our adult students wear workout clothes. Some prefer to dance in more traditional ballet clothes, i.e. leotard and tights.
Wear whatever you are comfortable with. Fitted clothing is recommended, so you can observe your alignment in our mirrors. We recommend ballet slippers and have them for sale at our office ($23-30). Socks also work for your first few classes.
From day one -- as an adult beginner who had never taken ballet -- I felt completely accepted, empowered, and supported. The instructors are all absolutely inspiring women who create a warm, inclusive atmosphere in their classes at every level. Every class, I leave feeling more positive, strong, and centered. Whether you are a professional or a complete beginner, you are made to feel like you belong -- and you are challenged to be your own personal best. I can not recommend this studio and these instructors enough! ~Ballet U Adult Student
Are you interested but these class times don't work for your schedule?
Consider trying one of our Ballet 1 classes instead.

Current class times are:
Wednesday 6:30-8:00 pm
Thursday 10:30-12:00 pm
If your schedule and budget allow, consider attending more than one weekly class.
Several of our students are doing this in order to progress more quickly and also
because they just love it so much!
Private Lessons
Prefer working one-on-one with one of our caring instructors?
We're happy to set up private or semi-private
(with a friend or family member or two) lessons for you.
These could be occasional or weekly.
Cost is $70 per hour and upon request we can include a
video recording of your lesson for your personal study and practice.
Do you like what you see but aren't quite ready to start now?
Contact us with questions or to find out about classes starting at a later date.
© Copyright Ballet U, LLC