Your child will feel like "one of the big kids" as they learn more challenging dance and ballet technique in our PreBallet 5 & 6 classes for children in Kindergarten and first grade! Students are nurtured by their positive and encouraging teacher who gently introduces them to more structure to prepare them for the expectations of higher level classes.
Dancers love dancing and exploring creative movement activities which help develop their imagination as well as strength, flexibility, balance, and focus. This prepares them for the execution of more complex movements which they will build upon in higher level classes. With more focus on proper placement and technique, dancers will feel a great sense of accomplishment as they improve.
PreBallet 5 & 6 classes are 60 minutes long and follow our school-year schedule. We also offer shorter sessions throughout the summer.
Tuition is paid in 10 monthly installments of $72. There is no registration fee. Payment of your first installment at registration reserves your child's spot in class. The remaining 9 installments will be charged to the payment method we have on file on the 15th of Sept. through May.
Dancers in our PreBallet 5 & 6 classes are invited to participate in our Nutcracker performance and also our Spring Showcase.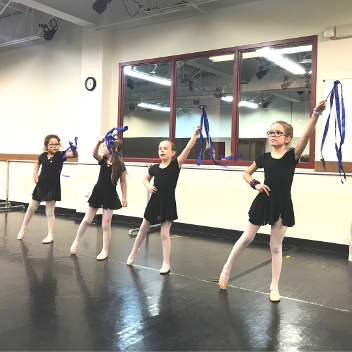 My daughter was in a session last year and LOVED it! At 6, she tends to be difficult to get out the door for activities but for Ballet Class, never a problem. Great teachers, great curriculum and a we loved the simplicity of the Preballet Showcase at the end of the year. 5 stars!!! Ballet U Parent
What to wear?
Girls: Light blue skirted leotard (Preballet 5) or sea foam skirted leotard (Preballet 6), pink tights and pink leather ballet slippers (available at Ballet U) For your convenience we sell a uniform package for $52, which you can purchase online when registering or at our office before the first class. Items are also available individually. If you already own a different leotard, your dancer is welcome to wear that;
Boys: black leggings or shorts, white t-shirt, black leather ballet slippers.
If you already own dance wear in a different color it's OK to wear that until outgrown. Please do not purchase ballet shoes at any of the big box stores. They are not leather and do not fit well. Contact us to get fitted for dancewear at Ballet U.